AXA Hong Kong and Macau's cloud transformation offers efficiency, sustainability to foster innovation
The company has maximised its value by laying a strong foundation of a cloud-agnostic strategy and a multi-cloud model.
The age of digitalisation is a transformative time for enterprises of all sizes. For insurer AXA Hong Kong and Macau (AXA), cloud computing is at the centre of this shift.
AXA aims to unlock the combinatory potential of advanced technologies like artificial intelligence, machine learning, and big data by building on top of its multi-cloud environment with high standards of security control. The company views cloud computing as a key investment in its digital transformation. It embarked on its digital infrastructure transformation journey in 2020, aiming to achieve technological innovation, increase agility, and business scalability.
"AXA adopts a multi-cloud model, so on top of the uptime advantage provided by any cloud solution, the best feature capabilities from each cloud provider are also leveraged with the optimised cloud computation power. The company's solid cloud foundation allows it to innovate easily, quickly, and securely," said Gary Ho, Chief Technology Officer, AXA Hong Kong and Macau.
Moreover, cloud service provisioning, management, and monitoring have become more convenient than ever with the easy management UI system. Behind the scenes of easy plug-and-play, AXA's robust cloud infrastructure with its comprehensive security layer design is its solid foundation.
With further convenience in collecting cost and usage consumption across platforms, the transformed cloud platform has brought long-term value to customers and partners.
Whilst a degree of technical debt is an inevitable expense of doing business, it must be managed properly to ensure an enterprise's sustainability and viability. Through features like self-healing and auto-scaling, the cloud addresses the various components of tech debt by eliminating the burden of maintaining and upgrading the data centre infrastructure.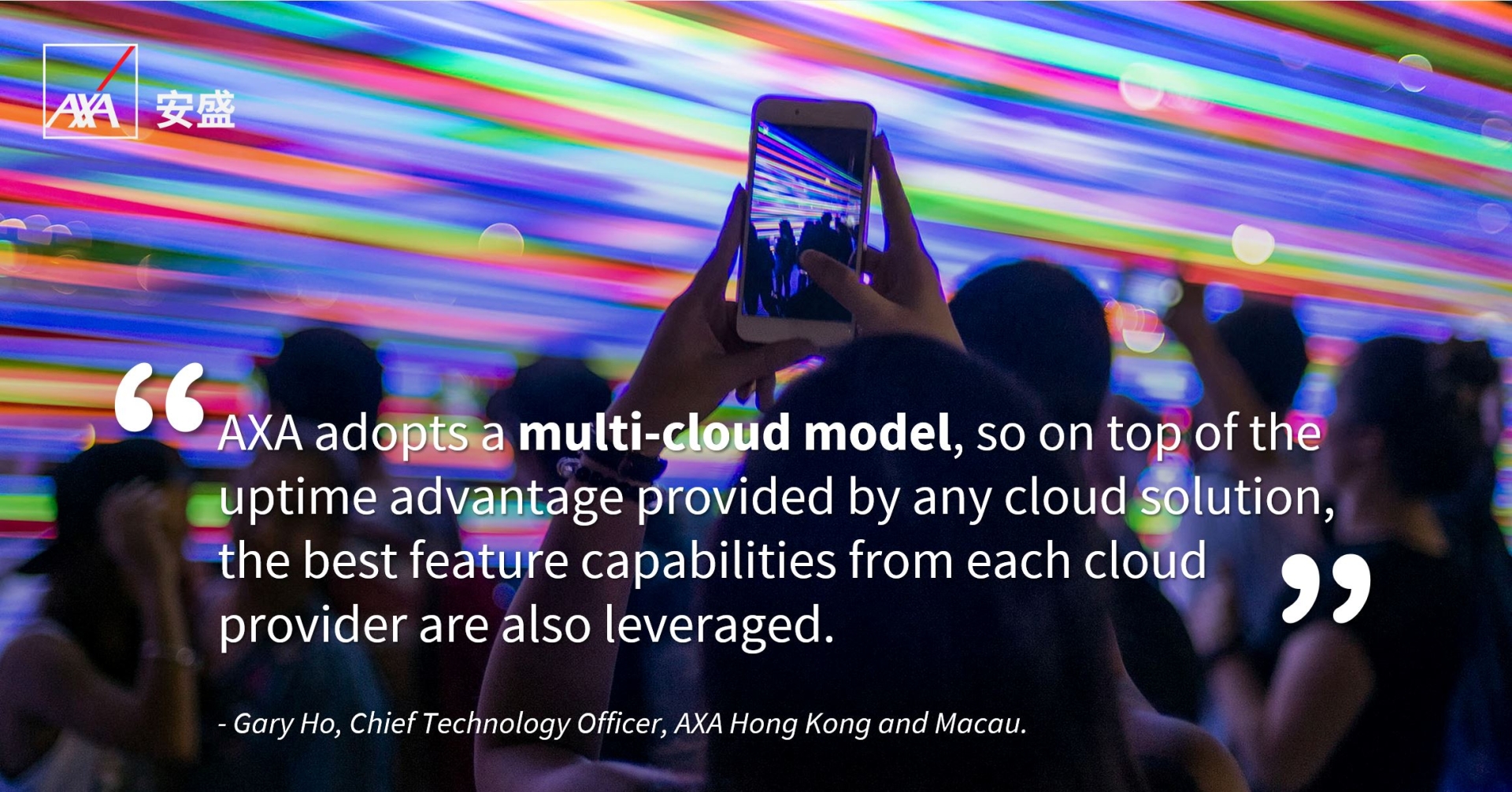 This allows AXA to concentrate on developing new and innovative solutions, as well as to maximise flexibility and efficiency. Alongside its agile development principles and CICD deployment approach, AXA can manoeuvre with greater agility, speeding up its decision-making process and product development, thereby shortening time-to-market.
As organisations require the flexibility to expand quickly and improve overall performance efficiently in today's competitive climate, AXA's advanced cloud platform paves the way for business expansion.
This is done by increasing its infrastructure and facilities with as simple as a few clicks; collecting individual app consumption information across platforms in a minute; identifying, analysing, and planning cost optimisation in less than an hour, and moving the app to another data centre within a day.
Having AXA's applications run across compatible infrastructure gives them the flexibility to switch between providers based on their performance and cost efficiency, thus adding long-term value to customers and partners.
Its Move-to-Cloud (Digital) adoption rate has already reached a healthy level, proving its success and determination in fully leveraging data, rendering a tailored and automated customer experience.
This feat has been recognised by the Hong Kong Business Technology Excellence Awards, as AXA takes home the award in the Cloud - Insurance category.
The prestigious awards programme honours outstanding companies that have made exceptional contributions in the pursuit of technological innovation in Hong Kong.
The Hong Kong Business Technology Excellence Awards is presented by Hong Kong Business Magazine. To view the full list of winners, click here. If you want to join the 2023 awards programme and be acclaimed for your company's outstanding contributions in pursuit of technological innovation, please contact Julie Anne Nuñez at julie@charltonmediamail.com.