Samson Ho, CEO of Jumppoint
Jumppoint, the underserved market's portal for deliveries
Algorithm helps the Hong Kong-based startup predict demand per area to ensure efficient drops at low cost.
As companies are busy doing what their competitors are also doing, Hong Kong-based startup Jumppoint does the opposite. Unlike other logistics platforms that offer quantity upon delivery, Jumppoint CEO and founder Samson Ho said they do it differently by using algorithms of their AI tech to plan the routes of their couriers.
What sets Jumppoint apart is that it also offers services to the "underserved market" in Hong Kong, which Ho identified as markets supplying bulky deliveries and multi-temperature items such as cold chain delivery.
Its cold-chain delivery offers four temperature ranges, which are: -18°C to -12°C; 0°C to 4°C; 19°C to 25°C, and room temperature.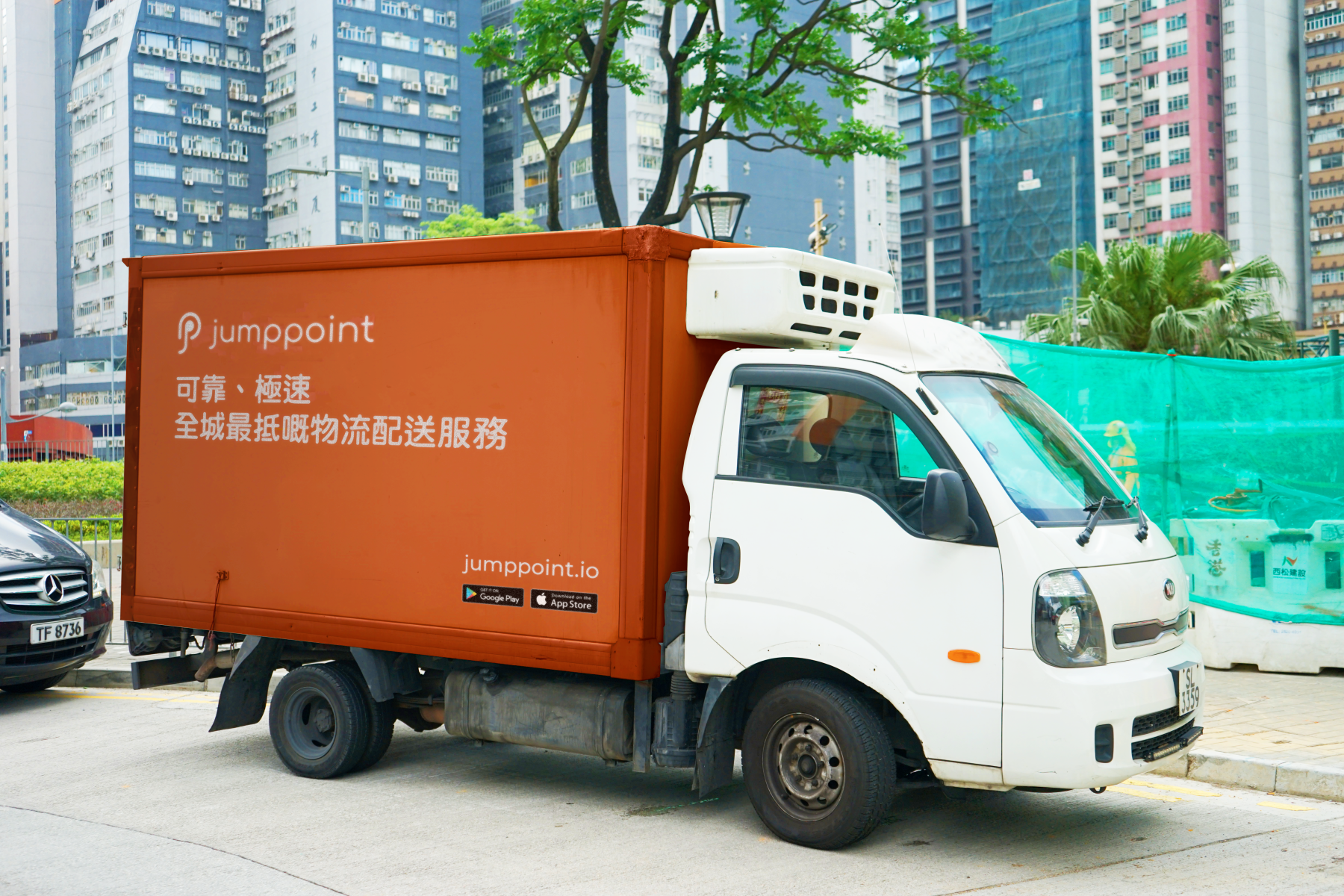 /Jumppoint
"When there is competition, your product is the same as ours, and you are stuck to something that will fail. When we see a certain demand is not well served by others, we focus on that," Ho told Hong Kong Business.
Since Jumppoint allows drivers to deliver more than 50 items per route, the logistics cost can be decreased by maximising the number of deliveries per hour. For example, Ho said their drivers can deliver four orders per hour which translates to $45 (US$5.85) delivery costs. Unlike other logistics platforms, one product being delivered in an hour usually costs an average delivery fee of $180 (about US$23).
These solutions are powered by proprietary AI tools of Jumppoint called Atlax and Hermex to assist them in creating unified GeoCode address databases and multi-level dynamic routing systems.
Jumppoint's logistics services also enjoy a "100% acceptance rate" because they bank on historical data to predict the demand in each area. This helps them plan their supply for deliveries.
"We understand who our merchants are, and how their business looks at different times of the week of the month so that we can plan our supply beforehand," said Ho.
MORE STARTUPS STORIES: The ChatGPT effect? Investors bet big on deep tech startups
Hong Kong's Hottest Startups of 2023
Origin story
In the Marvel Cinematic Universe, jump points are portals used to travel from one galaxy or universe to another. Ho's team was inspired by this science fiction term and used it for their platform's name.
"The meaning behind Jumppoint is we want to make it the most efficient way for you to travel in the world to deliver a product to another part of the world. We want to be the most efficient logistics platform," said Ho.
The idea that Jumppoint, since it is fictional, also breaks all the modern physics rules also reflects Ho's company. "It is also how Jumppoint works. We break most of the rules and we want to provide a revolutionary product to the world," said Ho.
When they were starting, Ho admitted that Jumppoint encountered some bumps on the road, particularly in keeping up with the shifts in delivery demand during COVID-19.
"The biggest challenge is always about the strong fluctuation in demand in COVID. The demand can ramp up 10 times in one day, and then drop 10 times in the next week," Ho recalled.
Compared to transportation firms, e-commerce demand or logistics isn't as steady. Ho said demand for e-commerce is high when there are mega sales such as Black Friday.
'Blue ocean'
Five years from now, Ho said they would continue to focus on improving the situation of the underserved market, which is door-to-door delivery at low cost.
"This is still a blue ocean, the first strong growing market. We will focus on that but of course, when everyone is doing that, we have to create new value," said Ho.
When other logistics companies focus on making their packaging stunning and tap other marketing strategies, Jumppoint takes a different direction by ensuring its retention rates for clients are higher than 90%.
"We do not rely on marketing expenses and we do not rely on advertising. We only focus on creating value and differentiated value for our customers," he said.
Jumppoint's lead investor and earliest supporter are MindWorks Ventures. Other investors include Headline Asia, a Japanese venture capital firm, Beyond Ventures, Hong Kong Inno Capital, Chinachem Group, and HKSAR ITVF.
The logistics startup has so far raised more than $78m (US$10m), Ho said.
$1 = US$0.13