Decline in expats drags luxury residential market
However, the rise in local demand softened the blow.
The luxury residential rental market saw a huge decline in the last three months of 2020 as border closures became a hindrance for potential buyers, as well as capital inflow.
However, the second quarter (Q2) of 2021 saw the end of eight consecutive quarters of decline as luxury residential rents recorded an increase of 1.4%, which analysts say is a sign of rents bottoming out for the first half.
According to real estate services firm, JLL Hong Kong, the decline of expatriate arrivals in the country had a significant impact on the luxury residential rental market.
Expats have traditionally been the main source of leasing demand for luxury housing. But much like last year, there were limited arrivals in the first half of 2021 due to travel restrictions.
However, the luxury residential rental market was saved by local demand.
"With few new expatriate arrivals, the luxury rental market continued to be primarily supported by existing demand. Viewing activities improved from very low levels previously as the pandemic was better contained," Nelson Wong, head of research at JLL in Greater China said.
Wong said that as the work-from-home arrangement becomes popular, it has probably prompted some tenants to upgrade their dwellings to accommodate certain work-related needs, resulting in higher demand for large size units.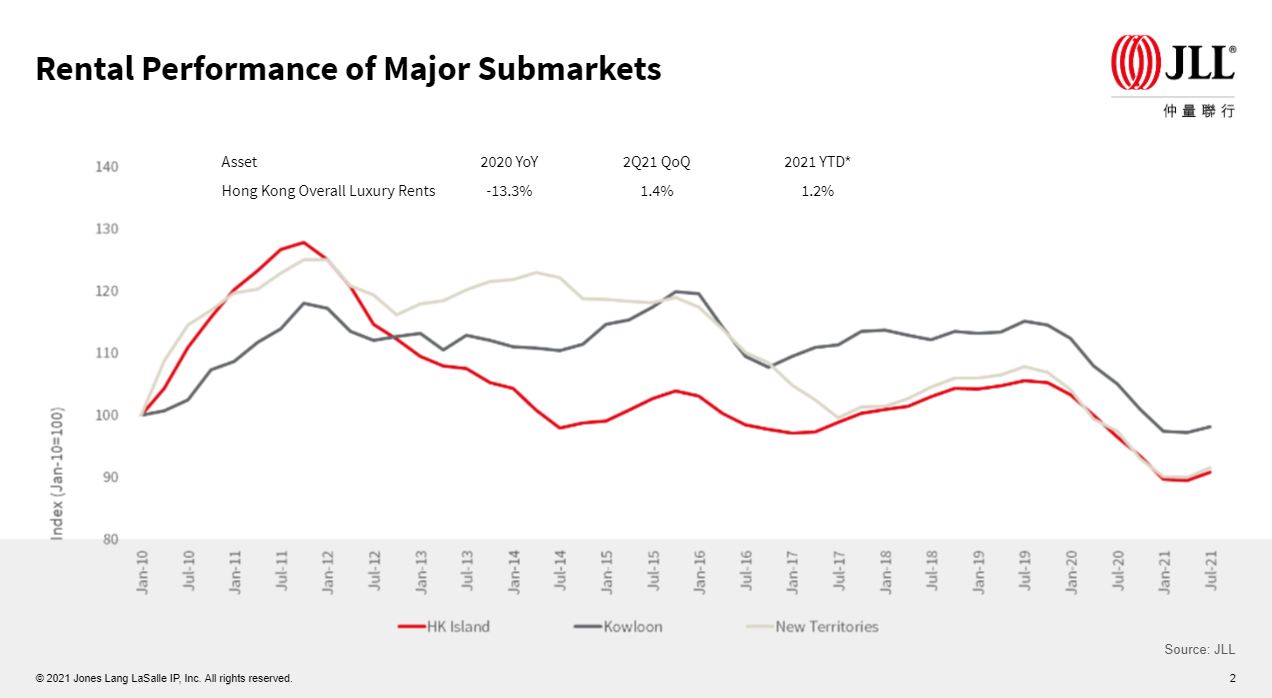 "The market also recorded some eye-popping leasing transactions driven by demand from senior management of mainland Chinese corporates. Also, shrinkage in housing budgets for existing expatriates has prompted some to relocate from the Peak to the Mid-Levels or even further away to the New Territories, resulting in higher demand for high-end rental units in these districts," Wong added.
Slow start
In a report by real estate firm Savills, the luxury leasing market was quiet for the first quarter (Q1) as businesses were hampered by tight quarantine rules set by the government.
Savills said luxury apartment rents on Hong Kong Island, Kowloon, and the New Territories fell by 1.2%, 1.1%, and 1.7%, respectively, all recording lower rates of decline compared with the previous quarter. Leasing activity has come to rely on local demand given that new arrivals have been scarce.
Q1 saw all districts in Hong Kong register smaller rates of rental decline compared to the previous quarter with Southside/Shouson Hill recording the largest decline with rents falling by 2% in Q1.
Savills said that reductions in housing allowances have driven tenants into lower-priced districts.
However, as the second quarter arrived Savills said that they are seeing few Mainlanders in the leasing markets but PRC sales activity in areas, such as Mid-levels, Kennedy Town, Sheung Wan, and Kai Tak in the $8m to $20m budget range has been more marked.
"These buyers can be characterised as yuppie couples starting out in Hong Kong seeking 500- to 700-square-feet (sq ft) apartments. Locals and expatriates are still the major demand drivers in the leasing market," Savills said.
Meanwhile, Q2 2021 also saw mild rental increments in all districts in Hong Kong Island with Mid-Levels registering the largest rise (0.7%), followed by Pokfulam (0.5%) and The Peak (0.5%).
Savills observed that Hong Kong Island tenants traditionally come from finance-related industries, which are benefitting from the flourishing IPO market, which recorded fundraising of $184b over the first five months of 2021, representing a dramatic increase of 620% over the same period in 2020.
In Kowloon and the New Territories Tai Po/Shatin was particularly active as elevated supply levels have forced landlords to be more pragmatic. With less traffic than the increasingly congested Sai Kung/Clearwater Bay area and offering a 25-minute commute to Central, the appeal of the area is obvious. A large apartment of 1,500-1,600 sq ft with a car park space can be let for less than $50k per month and townhouses can be had for $60k to $100k per month with a roof, small garden, car park, and (crucially) private access.
The accessibility of the district will be further improved after the opening of the cross-harbour section of the Shatin-Central Rail Link, which should open in either the second or third quarter of 2022.
Meanwhile, all submarkets in Kowloon and the New Territories recorded rental increases except Tai Po/Shatin, which was affected by the completion of new developments in Kau To Shan which lured new tenants from Tai Po. Discovery Bay saw the largest rental increment amongst the submarkets in Kowloon and the New Territories, followed by Sai Kung (+1.2%) and Ho Man Tin/Kowloon Tong (+0.4%).
Townhouse rents registered a rental increase of 0.9% over the quarter, up from an increase of 0.2% in Q1 in 2021. Despite the rebound over the last two quarters, townhouse rents are still 12.8% below peak Q1 in 2019 levels. The typical budget for a house on The Peak is from $120k to $400k per month. Some super luxury houses may ask for $600k or above.
Rising trends
The recovery of the luxury residential market may also be attributed to several trends observed rising in Hong Kong.
According to JLL, with the rising popularity of work-from-home arrangements, tenants were prompted to upgrade to larger units to accommodate work-related needs.
Meanwhile, shrinkage in housing budgets for existing expatriates has prompted some to relocate from the Peak to the Mid-Levels or even further away to the New Territories, resulting in higher demand for high-end rental units in these districts.
Additionally, tenants took advantage of the rent decline of 16% between the third quarter (Q3) of 2019 and Q1 2021 to upgrade from medium- to large-sized units. This was reflected in the drop in vacancy rate according to the latest figure from the Rating and Valuation Department.
Predictions
JLL has three predictions for the property market which has seen capital values rebounding for 2021.
The first is that together with sustained end-user demand and substantial liquidity, better-than-expected economic recovery will further support the housing market.
Second, with the improving economic and virus trends, the leasing market is anticipated to improve gradually with the expectation of the border reopening before the end of 2021. More leasing enquiries are expected in Q3 2021 amidst the traditional home search season. Luxury rents are forecasted to rise by 5-10% by the end of 2021.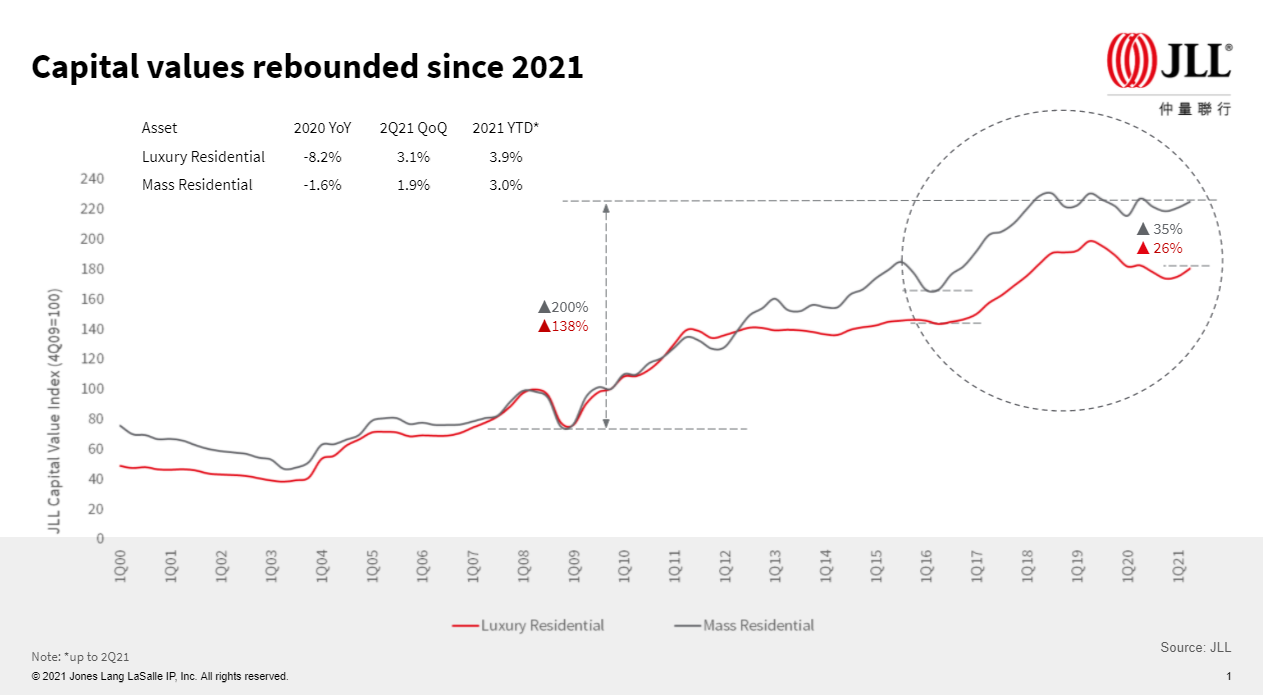 Last, the substantial liquidity and economic recovery will further stimulate investment sentiment.
"We expect transaction volume for luxury properties to stay high despite the ongoing border shutdown. Luxury capital values are forecasted to rise by 5-10% in 2021," Wong said.