Time for a comeback? Hong Kong's top 50 insurers show a 9.75% surge in assets
Health and wellness products still remain a priority for the industry.
With the skies clearing, Hong Kong consumers will still prioritise making sure they have an umbrella handy, a fact that Hong Kong insurers took note of as they ready health and wellness products for 2022.
Hong Kong Business 2022 Insurance Rankings has revealed that the industry's top 50 insurers total assets surged by 9.75% to HK$709b in 2020 from HK$646b.
AIA International continued to retain its number one spot in the rankings despite its total assets declining to HK$126b in 2020 from HK$141b in 2019. This was also the case for Prudential (HK) Life. With its total assets dropping from HK$111b to HK$92b, it still managed to retain the second spot in 2021's rankings.
China Life took the third spot with HK$67b in assets with Manulife following close behind at fourth with HK$63b. Completing the top five is HSBC Life at $54b.
Going by the numbers
More Hong Kongers are starting to act upon their future, instead of just worrying about it. This has been evident in Hong Kong's Insurance Authority's annual report with the Individual Life business remaining to be the dominant line in the business, making up HK$458.5b or around 87.9% of total long-term business. The report also saw a modest rise in total office premiums for in-force long-term business by 2% to HK$521.4b in 2020.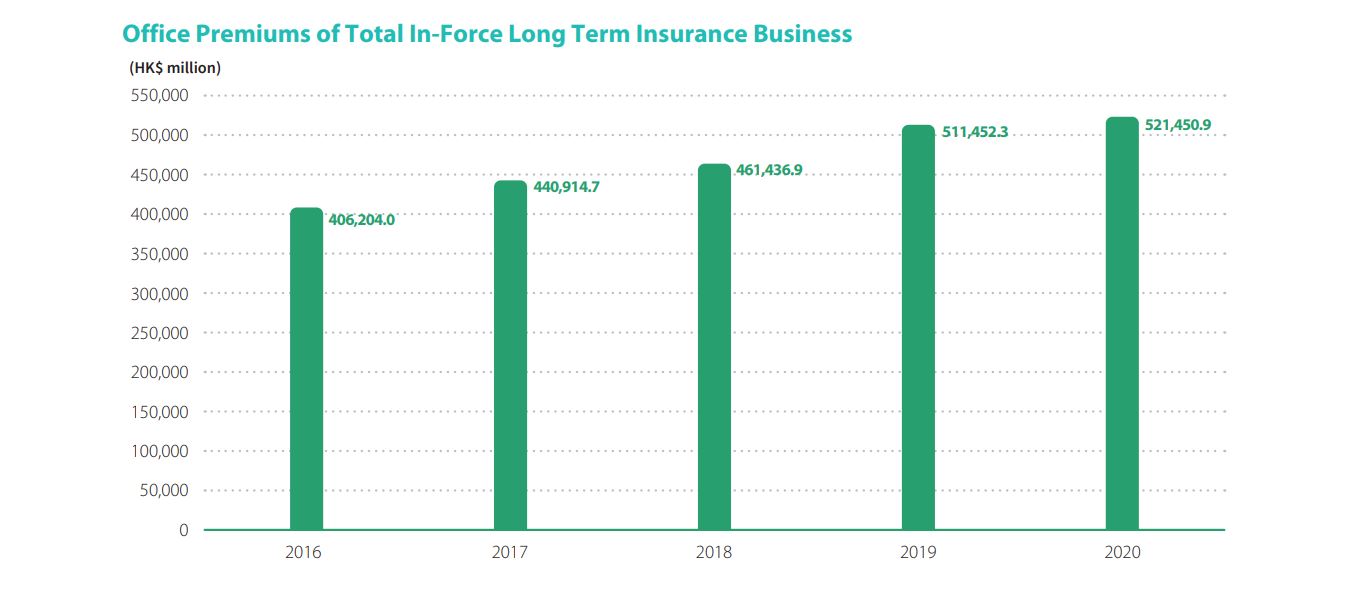 What probably slowed down the long-term business is the 20.9% decrease in office premiums for new individual life business to HK$119.6b in 2020, including HK$106.8b from Individual Life (NonLinked) business and HK$12.7b from Linked business, which recorded a decrease of 23.4% and an increase of 8.8%, respectively. The total number of new policies decreased by 20.8% to 1 million in 2020. Office premiums for the new Individual Annuity business decreased by 36.3% to HK$13.3b.
Meanwhile, the general insurance market performed admirably despite the considerable challenges in the past two years. Total gross written premiums recorded a growth rate of 8% to HK$59.8b in 2020. Overall underwriting profit hit HK$2.3b, a major increase from HK$869m in 2019.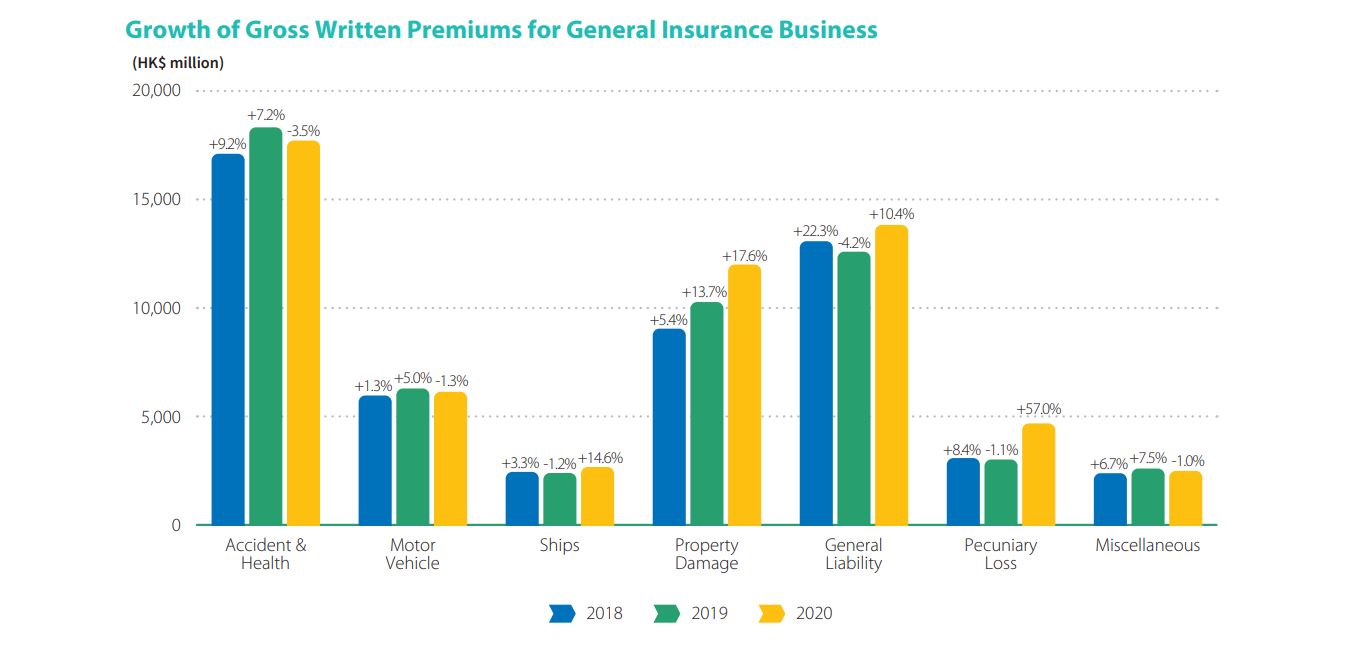 The IA said that the biggest contributor to the general insurance market's growth was property damage, general liability, and pecuniary loss business. Rate increase and new business continued to fuel property damage and general liability business which both showed double-digit growth of 17.6% and 10.4% each. Upward adjustment of the maximum property values for the Mortgage Insurance Programme propelled forward mortgage insurance business, driving an upsurge of 57% in the Pecuniary Loss business.
The pandemic, however, took its toll on direct sales of medical and travel insurance and had dampened the accident and health business, which saw a decline of 3.5% in 2022.
Health and wellness
Despite challenges in sales of medical insurance, however, HSBC Life Hong Kong CEO Edward Moncreiffe said that health and wellness will continue to be a trending focus in 2022. Moncreiffe said that customers see health across three dimensions, namely physical, mental, and financial health. He added that this was supported by a global study they conducted last year which saw eight out of 10 believe that they need to be both physically and mentally healthy to enjoy their financial wealth.
This was seconded by Damien Green, CEO of Manulife Hong Kong and Macau, adding that retirement funding needs in Hong Kong remain huge, as well.
"Today around 30% of total health care expenditure in Hong Kong is 'out of pocket' which represents the big job on our hands to properly insure our community," Green said.
For Green and Manulife, they are also preparing for an influx in demand from mainland Chinese residents for health and retirement insurance solutions. According to Manulife's recent customer research, Chinese mainlanders in the Greater Bay Area are eager to visit Hong Kong, with 70% of respondents saying they plan to purchase insurance products whilst in the city.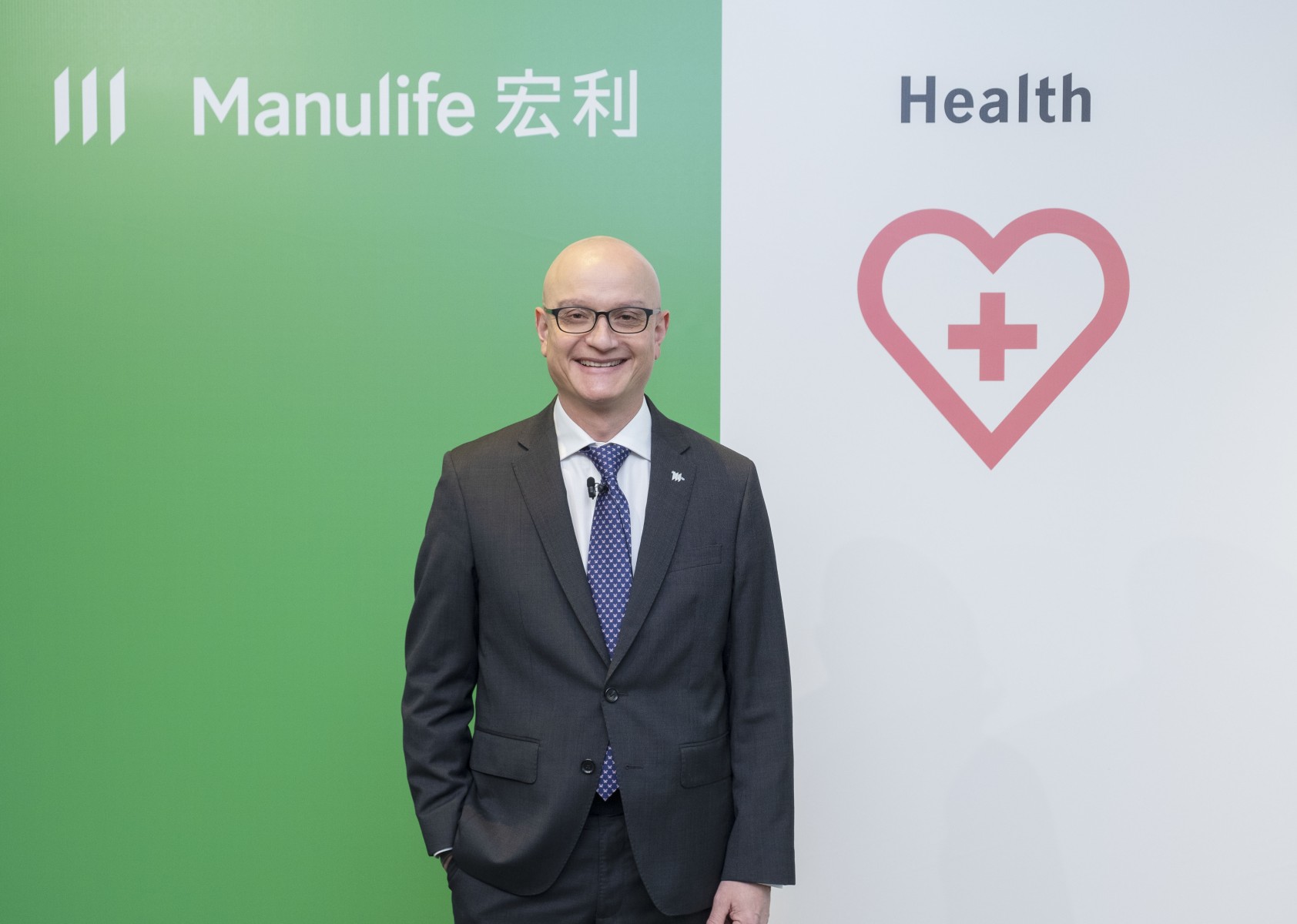 2021 in a nutshell
In summing up 2021 for HSBC Life, Moncreiffe said it has been a challenging year for the whole industry, with COVID-19 waves persisting throughout and international borders largely closed.
"Despite this, HSBC Life demonstrated extremely resilient performance with our Annualised New Premiums and Value of New Business growing 20% and 34%, respectively. As the Hong Kong population continues to adjust to new ways of living as a result of COVID-19, our strategic investments in digital propositions have continued to yield positive results," Moncreiffe said.
For Manulife, it has been a busy year as they report a 17% increase in core earnings in 2021 compared to 2020.
"Our leading high-value Agency franchise continued to be a key contributor to our strong results, accounting for 66% of total annualized premium equivalent (APE) sales. On top of this, we achieved leading growth in our overall number of agents last year. We had more than 11,600 agents by the end of the year, representing 9% growth over 2020," Green said.
Looking ahead
Moncreiffe said that this year, HSBC Life will be gearing up to tackle the aftermath and uncertainties left by the pandemic.
"We expect this will continue to manifest in multiple ways. It will continue to emphasize the need for operational resilience, it will change the way that customers look to buy and service their insurance policies, and it will increase the expectations that customers have for their insurers to be agile, always-on, fair and transparent," he said.
Inflation is also a growing concern. Moncreiffe said there will be entire generations of savers who for the first time are exposed to wealth-erosion effects of inflation.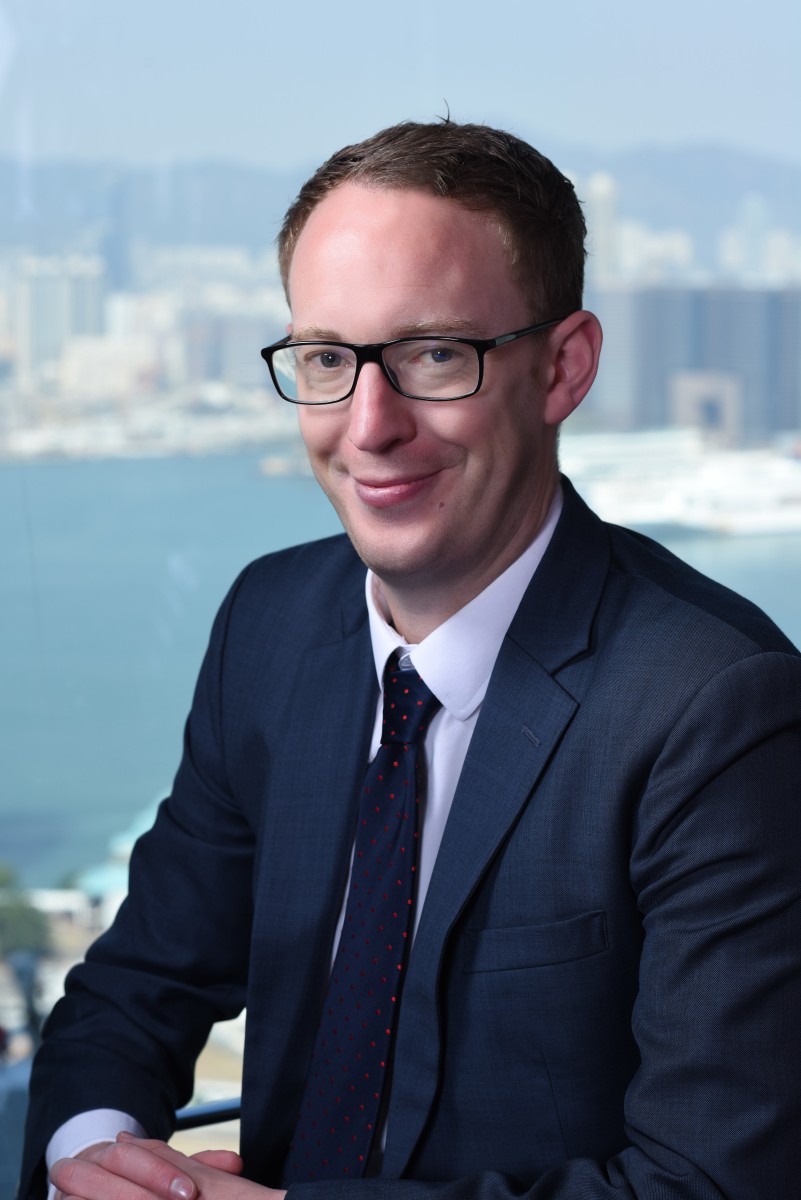 "Life insurers, and their intermediaries, will need to anticipate this fast, help their customers understand how to plan financially in such a climate, and make sure that they can offer long-term savings and retirement solutions that protect against these risks," Moncreiffe added.
Moncreiffe said HSBC Life is in the business of making promises and they would continue to deliver by meeting the health, protection, retirement, and legacy needs of their customers.
"We write High Net Worth life insurance coverage to US$100m per individual, and yet we also provide term coverage that can be as low as below HK$2 per day. It is this ability to serve the needs of all segments of Hong Kong society that keeps us close to our customers and will ensure that we stay at the vanguard of exciting new product developments in 2022," Moncreiffe explained.
Meanwhile, Manulife Hong Kong is arming itself to be ready for the upcoming strong demand from mainland Chinese visitors. Green said they accelerated investments in Hong Kong and Macau by enhancing their customer service and upgrading their self-serviced digital platform. They are also aiming to hire more agents with knowledge and connections in the mainland to better capture business prospects in the GBA areas.
"Once the border with mainland China reopens, we are well-prepared to serve our customers across the region by ensuring their access to high-quality health protection and retirement offerings," Green said.
Though the aftermath of the pandemic will remain a challenge, Manulife Hong Kong continues to make preparations such as being on track with its HK$400m investment in 2021 and 2022 to further transform its digital applications for its agents and customers as well as improve virtual face-to-face interactions with customers.
"Manulife is the longest continuously operating life insurer in Hong Kong today, and this year we are celebrating our 125th anniversary in the city. Over the years, as we navigated the ups and downs together with the city, we are proud of our longstanding commitment to Hong Kong's development and we will continue to cement Manulife as a household name in the city," Green said.
***
*The Hong Kong Business 2022 Insurance Rankings is based on the Insurance Authority's 2020 annual statistics.