Towngas and Maxim's honoured at HKB National Business Awards for pioneering circular economy
Their groundbreaking waste heat system and innovative desiccant dehumidification project mark a significant step towards sustainability and innovation in the energy sector.
The Hong Kong and China Gas Company Limited (Towngas), along with Maxim's Group, has clinched a prestigious accolade at the HKB National Business Awards 2023, reaffirming its commitment to sustainability and innovation in the energy sector. The companies were recognised in the Energy category for their waste-to-energy system and desiccant dehumidification in Hong Kong.
The visionary project began its journey in 2019, when Towngas initiated the conceptual design to harness the potential of waste heat generated by its Tai Po Gas Production Plant. United by a shared vision of decarbonisation, Towngas collaborated closely with Maxim's Group to successfully bring the first cross-boundary waste heat system to fruition in 2023.
During the production process of town gas, the processing gas undergoes heating to temperatures exceeding 700°C, leading to the need for multiple cooling stages. Consequently, residual heat is generated as a byproduct of this chemical process. Traditionally, this residual heat was considered waste and expelled through evaporative cooling, which entails continuous water replenishment and substantial operating costs.
In order to maximise the utilisation of this residual heat efficiently and reduce water consumption, Towngas introduced modifications to the hot product gas cooling process. The captured waste heat is then repurposed as green energy and transported via hot water pipelines and heat exchangers to the Maxim's food factory.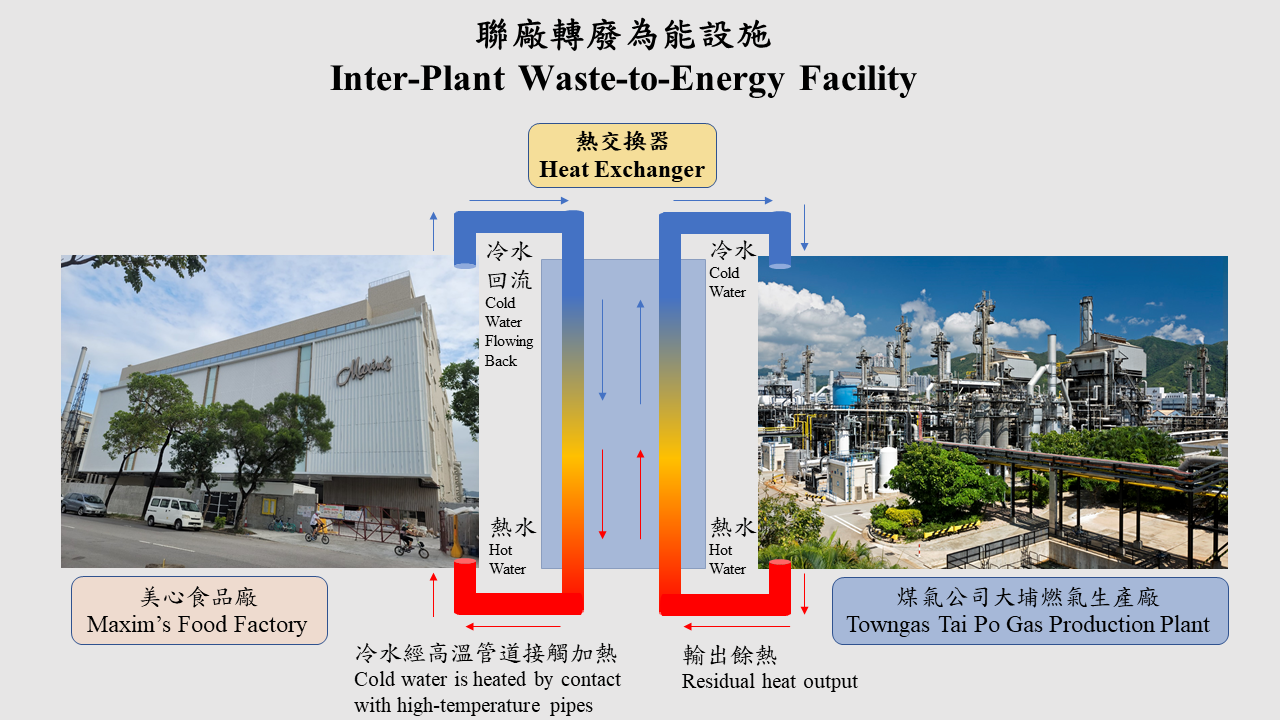 In an additional feat of innovation, Towngas conducted a feasibility study on leveraging waste heat within the food factory process. As a result, the Company introduced the first waste heat desiccant dehumidifier in a Hong Kong food factory. This revolutionary system replaces the conventional heating element with a hot water coil from the cross-boundary waste heat system, which serves as the heating source for regenerating the desiccant wheel.
When incorporated into the standard air-conditioning system, the waste heat desiccant dehumidifier delivers steadfast humidity control and enhances indoor air quality (IAQ). By eliminating the risk of moisture contamination and microbial growth in food production lines throughout the year, optimal conditions for food safety and quality can be guaranteed. The current design of the dehumidification system can satisfy Maxim's stringent specifications by maintaining a temperature of 20°C and a relative humidity (RH) level below 65%.
The meticulously designed system boasts a capacity to supply up to 40 tonnes of hot water per hour at 90°C, precisely tailored to meet the demands of the desiccant dehumidifiers. This innovation yields a remarkable reduction of approximately 800 tonnes of CO2 emissions annually compared to conventional desiccant dehumidifiers, equivalent to planting around 34,000 trees.
This pilot project serves as a remarkable showcase of waste-to-energy conversion and embodies industrial ecology in action. It not only celebrates the power of collaboration but also advocates for waste heat recovery and the widespread adoption of this newfound opportunity across various industrial sectors.
Towngas remains committed to pioneering sustainable solutions with our business partners to amplify the impact of our decarbonisation efforts and promote climate change awareness. This eco-innovation project is also dedicated to further advancing circular economy principles within the energy sector, promoting sustainability and resource efficiency.
The HKB National Business Awards is presented by Hong Kong Business Magazine. To view the full list of winners, click here. If you want to join the 2024 awards programme and be acclaimed for your company's exceptional contributions to the local business landscape in Singapore, please contact Julie Anne Nuñez at julie@charltonmediamail.com.